#SQUADGOALS SO ON POINT THAT EVEN TAYLOR SWIFT MIGHT GET JEALOUS!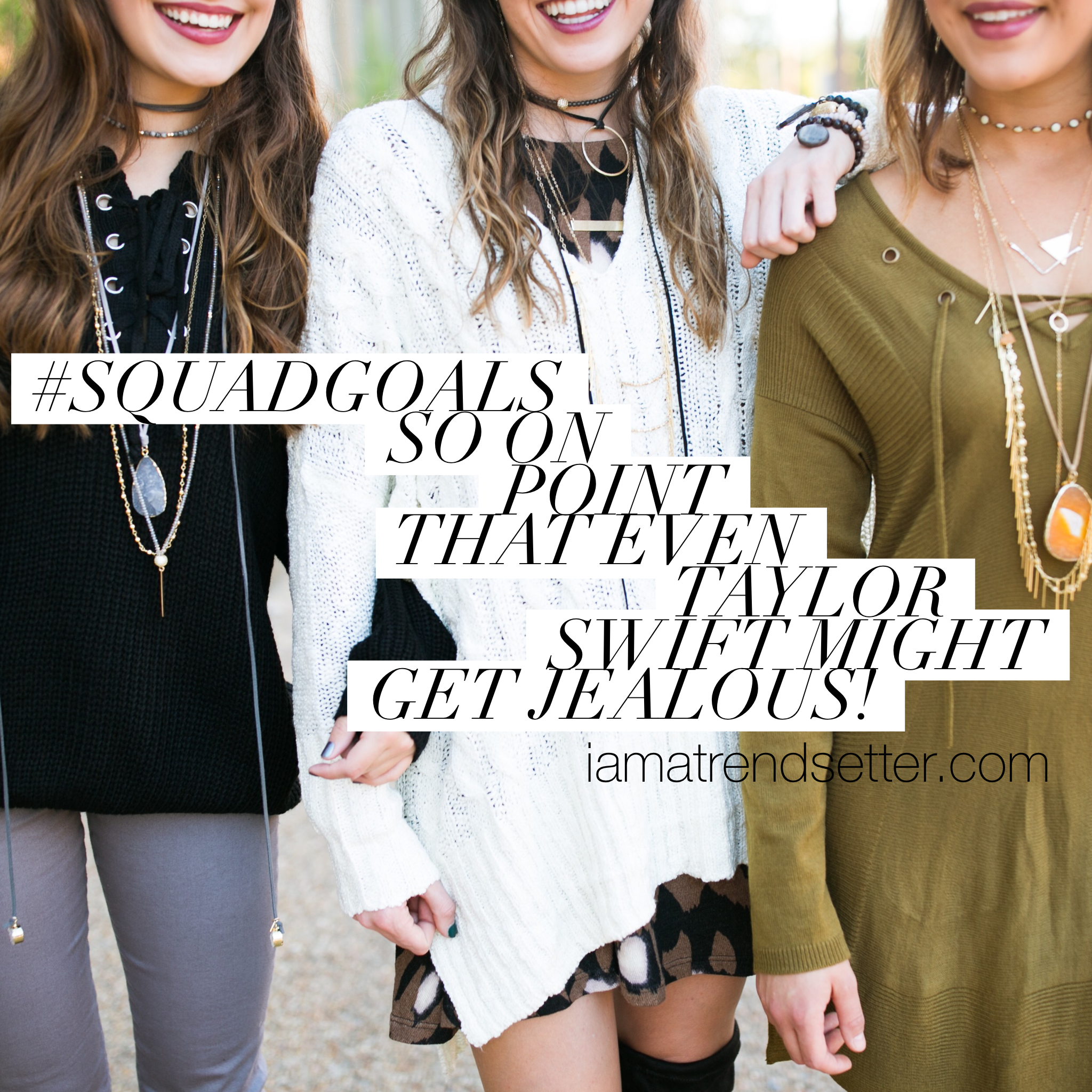 SO HERE'S THE SCENE--
You're sitting on the couch chillin' after a long day & all of a sudden-- it hits! And once that great idea hits, there's no stopping the flowinspiration and motivation! As you excitedly jump up to grab your notebook or run to your desk your husband (or better half) look at you lost in confusion wondering-- "what is going on?!"
You could ramble on about your brilliant new idea but you know it'll only result in more confusion, loss of motivation and inspiration, and make you even start to question it a little!
Now imagine instead that you have #squad game so strong that when that idea hits you can share it knowing it'll be welcomed with feedback, support, & encouragement by a group of badass babes you love & admire!
TODAY I'M GOING TO TELL YOU HOW TO CREATE #SQUADGOALS SO ON POINT THAT EVEN TAYLOR SWIFT MIGHT GET JEALOUS!
BUT FIRST-- LET'S CHAT ABOUT WHY YOU NEED A BADASS #GIRLGANG!
There's nothing quite like the power of surrounding yourself with other women who "get it" and inspire you to step up your game!
They've got your back! You're amazing and can do amazing things but it's ALWAYS important to know you've got a squad cheering you on & that always has your back!
They hold you accountable! You'll be less likely flake, and a lot more likely to show up in powerful, big ways when you know you'll be called on it if you don't!
Now that you realize you NEED your very own #squad let's chat about who is worthy of joining your clique!
Before we even talk about the people we choose to be a part of the gang, I want to point out three qualities you should look for before letting just anyone into your inner circle!
Can I learn from/be inspired by them?
Can others in the squad learn from/be inspired by them?
Can they learn from/be inspired by me?
Now let's look at the type of people to include in your gang! <<I suggest starting small & keeping it close! Start by choosing 2-3 from each type of group!>>
Your besties-- the closest friend/s that always has your back & is in your corner cheering you on!
Your peers & role models- Who do you look up to? Who has similar goals/ambitions as you? Who has the same target customer/client or tribe as you? Who stands out in their (or your) industry?
Your tribe! It's a great idea to include part of your tribe! By giving them access to your clique you're providing them a tremendous value! They will admire & be hooked on you even more building your brand!
Now you know why you need a #SQUAD of your own, and how to curate it--let's talk about how to grow and nurture it!
There's a saying...
"WHEN YOU FIND YOUR TRIBE, LOVE THEM HARD!"
I'm going to give you three epic ways to do just that!
Show them mad love by bringing them all together! Create a community space that benefits everyone & creates an inviting vibe that makes them want to engage!<< Be creative! You can create the space in the form of a FB group, Instagram Direct Message, etc! >>
Show up for them! The best way to get the most out of your gang is to follow the golden rule! Do as you would do unto others! You WILL get back what you put in!
Be authentic! Your squad is your squad for a reason! They are there to love and support you, hold you accountable, & always be in your corner! The BEST thing you can do to show your loyalty is to just BE YOU & not hold back! They NEED what only you bring to the table!
I can't even begin to express all of the blessings that have come my way since creating my #TRENDSETTERS Squad! It's an exclusive and elite Facebook group of hand selected #bossbabes who are breaking all of the rules and setting all the trends in their industry!
IF YOU'RE LOOKING FOR YOUR DREAM CLIQUE AND ARE INTERESTED IN JOINING THE #TRENDSETTERS SQUAD YOU CAN APPLY HERE!