BEAUTY TIPS TO HELP YOU SLAY VALENTINE'S DAY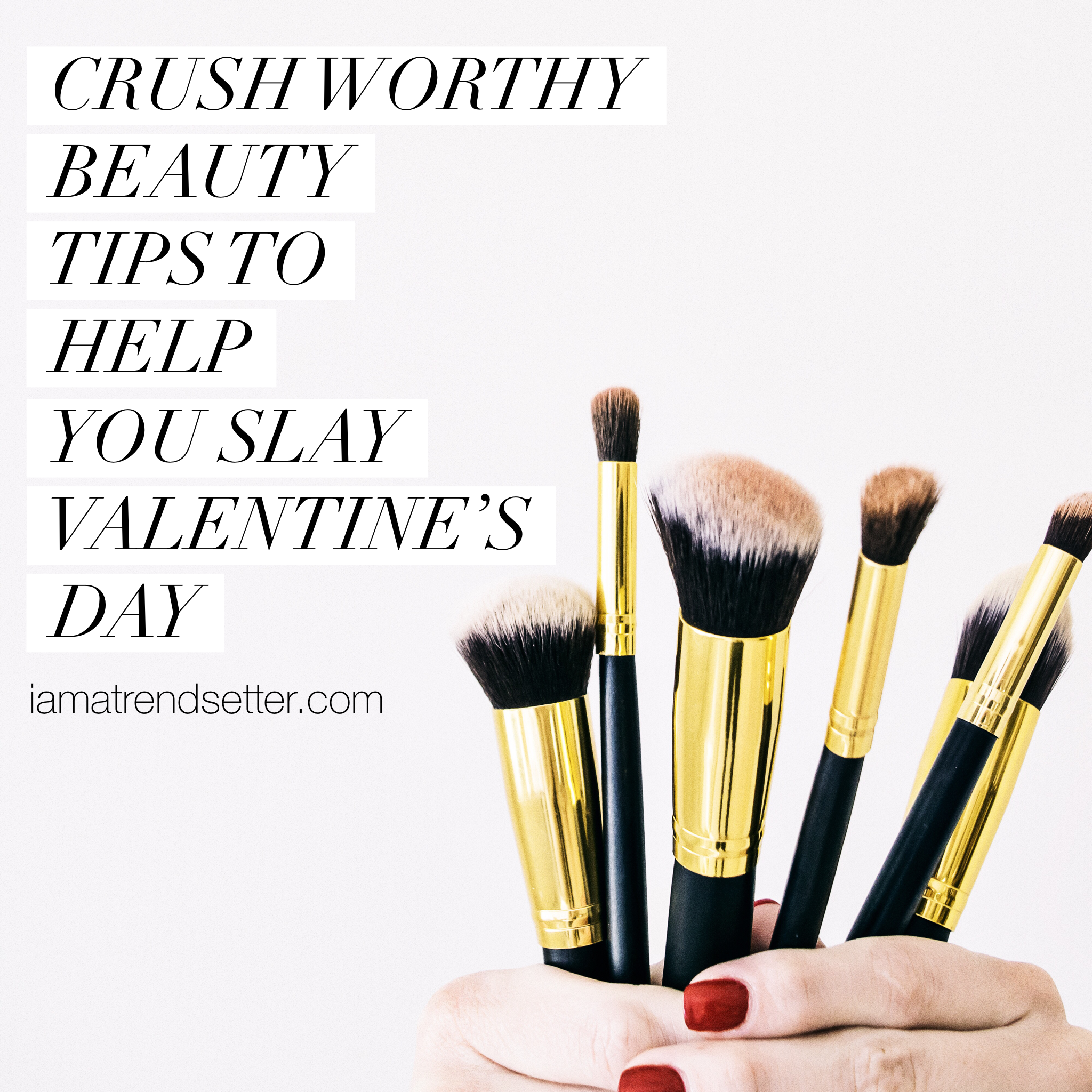 Valentine's Day. You either hate it or love it, but I'm all about showing yourself some love in February. I'm a firm believer in the fact that a great love life starts with self love, and a great beauty routine definitely helps with that. Today I'm excited to share with you five of my go-tos for not only feeling my best, but looking my best as well!
FIND YOUR SIGNATURE PERFUME
I don't know what it is about a great perfume, but it makes me feel like a million bucks! Not only that, but my husband always notices if I change it up or stick to my signature scent too! Find a perfume that you love and that makes you feel your best. This can totally match your personality, but I like to have one for every day and another for special occasions. For the scent to last all day, I spritz it in my hair, on my wrists, and on my top or jacket!
SHOW YOUR SKIN SOME LOVE
Lately I have been all about skincare and perfecting a routine that works best for me. Think of your skin as a blank canvas and taking care of that canvas will make the rest of your makeup routine flawless. Whether you're going bare skin for a breakfast date or putting on your favorite foundation for a night out, having good skin will definitely benefit you. I have recently been loving the charcoal line from Biore. I picked a few products up when Ulta had the buy one get one half off sale, and let me tell you… my skin is so dang happy! Another product you have to try is the Origins Drink Up Overnight Intensive Mask! You put it on like a moisturizer at night, sleep in it, and rub any excess in the morning after. It seriously gives your skin so much moisture and makes it feel amazing. Try these out or just get samples from your local Sephora or Ulta. You'll thank me later!
FRESHEN UP YOUR FRINGE
Whether you're in need of a quick trim or just a treatment to make your hair feel it's best, do it this month. Not only will you feel your best, but it will make the whole getting ready process a breeze. I've been loving Agave Oil products, but any nourishing products will do! Plus who doesn't want to have amazing hair for your significant other to play with on date night? ;)
GET CAUGHT BLUSHING
I have never been a huge blush girl, but nothing looks better for a date night than a natural blush to the cheeks. I've been loving the Urban Decay AfterGlow 8 Hour Blush in "Video." Top it off with a little bit of bronze highlight, and you'll be date night ready!
PERFECTLY POLISHED
I recently jumped back on the claws train, and I have to say, I'm digging it. I am usually a natural nail girl, but there is just something about a fresh manicure that makes me feel like superwoman. Go with a light pink or a fresh nude to keep your fingers polished and sophisticated from the office to date night & everything in between.
Now that you've got the perfect tips to slay Valentine's Day either with your hot date or your gal pals, we want to know - which tip was your favorite?
Let us know in the comments down below!
And join us in the MEMBERS ONLY GROUP today where I'll be talking about Valentine's Day Makeup Do's & Don'ts!