Rebrand your YouTube Channel the RIGHT way!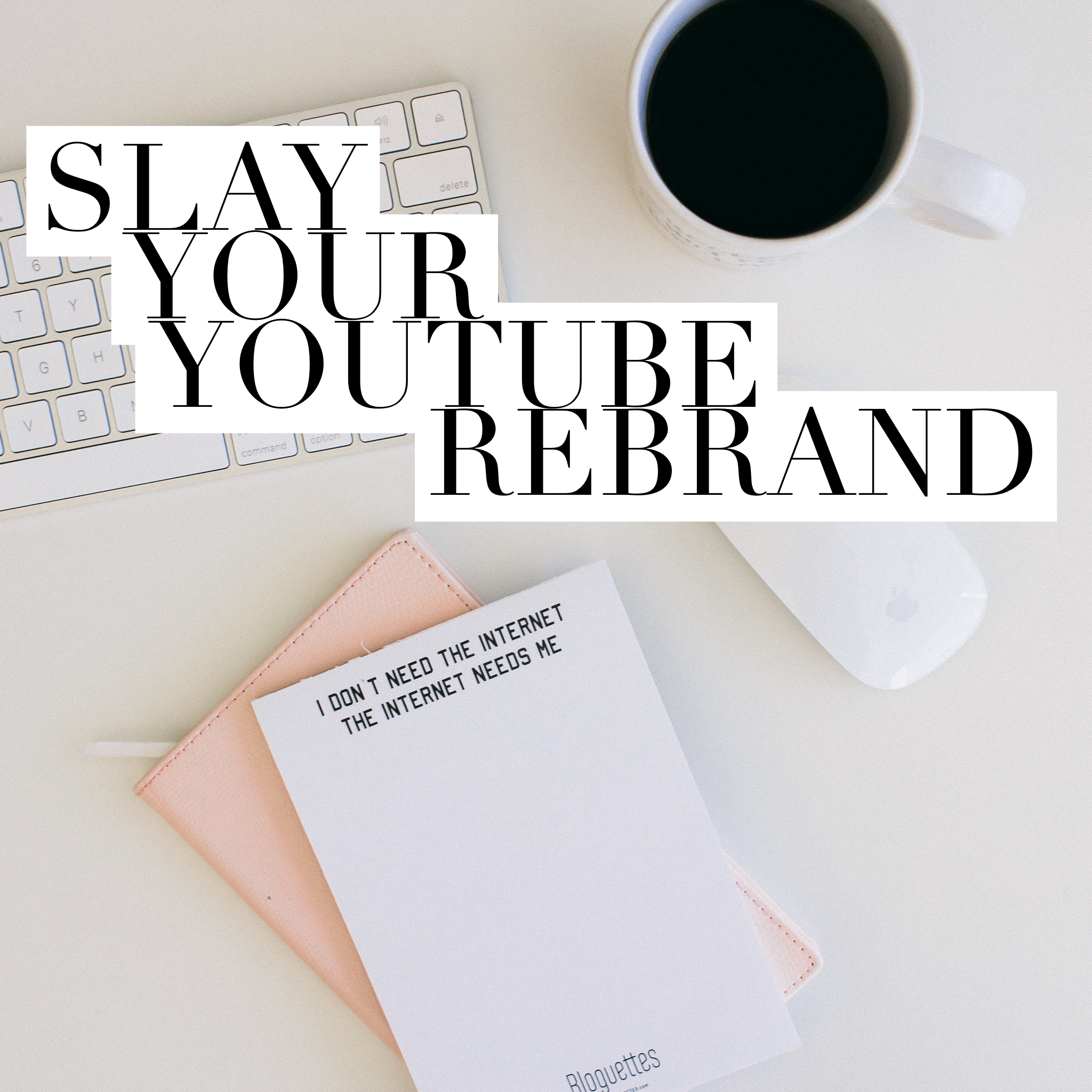 Happy first day of June! I LOVE the first day of a new month because it allows a fresh start, a fresh mindset, and a fresh set of goals! I'm so excited to be talking to you today about another fresh start… a REBRAND. I made the crazy decision this week to take a step back from my YouTube channel for an undecided amount of time to work on a rebrand, and I wanted to share my secrets. I've done this before, and I am a firm believer in a rebrand. We are human. We change and evolve. We grow up and we are never ending when it comes to change and interests so it makes sense that you brand would be the same. I started my channel back in 2010 and since then, I have undergone at least three rebrands and there is no shame in that game. I have learned something each time and gotten more and more to my true self with each one. With that has come more opportunities as well because when I'm aligned I attract brands that want to collaborate (exciting right?!) so make sure you check out my FACEBOOK LIVE today as well for secrets on sponsorships that most influencers WON'T tell you!
Now before you go down that sponsorship street, lets talk rebrand tips & tricks!
KNOW WHEN A REBRAND IS NEEDED. This might sound silly, but for me… I can feel it in my bones. For example, I've been uploading videos on & off over the past few months & I can tell there really isn't a rhyme or reason to any of them. They are great content, have a purpose, and well thought out, but there isn't a master plan behind any of it and THAT to me tells me I need to recenter myself and rebrand. Now when I say rebrand, this doesn't necessarily mean changing my logo and overall look, but it means more of a rebrand in content, cohesiveness, and overall look to my channel. I was lucky enough to work with Bri Long at the end of last year to get a brand new logo, and I want to make sure my content lives up to that gorgeous-ness ;)

BRAINSTORM. This will not happen overnight. Creativity is not something you can force, and you will more than likely find yourself pulling inspiration from here or there randomly. THAT IS OKAY. I keep a notebook with video ideas, blog ideas, etc that I can pull from when I'm ready to really get this rebrand underway. For me personally, mine will more than likely be for a few months. Take your time & brainstorm every possibility so you can get it right!

TAKE A BREATHER. I know this doesn't apply to everyone, but sometimes when I rebrand, I need a few days to relax and not think about it. This gives my creative juices a break, and usually, I come back with something 10x better than I ever could have imagined. Take a few days. Unplug. Rethink. Brainstorm. You got this.

HAVE ONE GREAT IDEA. You may be looking at this & going… Alexa… one idea is not going to get me anywhere. With YouTube though, it will. For my current rebrand, I want to come back with a series. THIS idea will guarantee that not only will my audience have something to look forward to, but I will have content to tease up until I relaunch my channel. Do I have more ideas to back that ONE great idea up? You betcha, but this is my mic drop content that will hook those subscribers back up to my channel and remind them why they loved me to begin with!

COME BACK WITH AVENGENCE. This is KEY. Make sure you rebrand and relaunch your channel with a BANG. Be prepared. Have back ups. Prefilm videos. Get a schedule. Have everything planned out to a T for at least 2 months in advance and you will be golden. Rebranding & relaunching a channel can be stressful & full of growing pains, but if you prepare prepare prepare, you will be thanking yourself 10x over.
So now that you have my 5 top secret secrets to rebrand & relaunch your channel, lets talk about sponsorships & getting that money honey! Today in the members only area I will be talking about to protect YOURSELF in sponsorship situations & how to make YOU the boss, not the other way around. See you then!