Stand OUT on YouTube!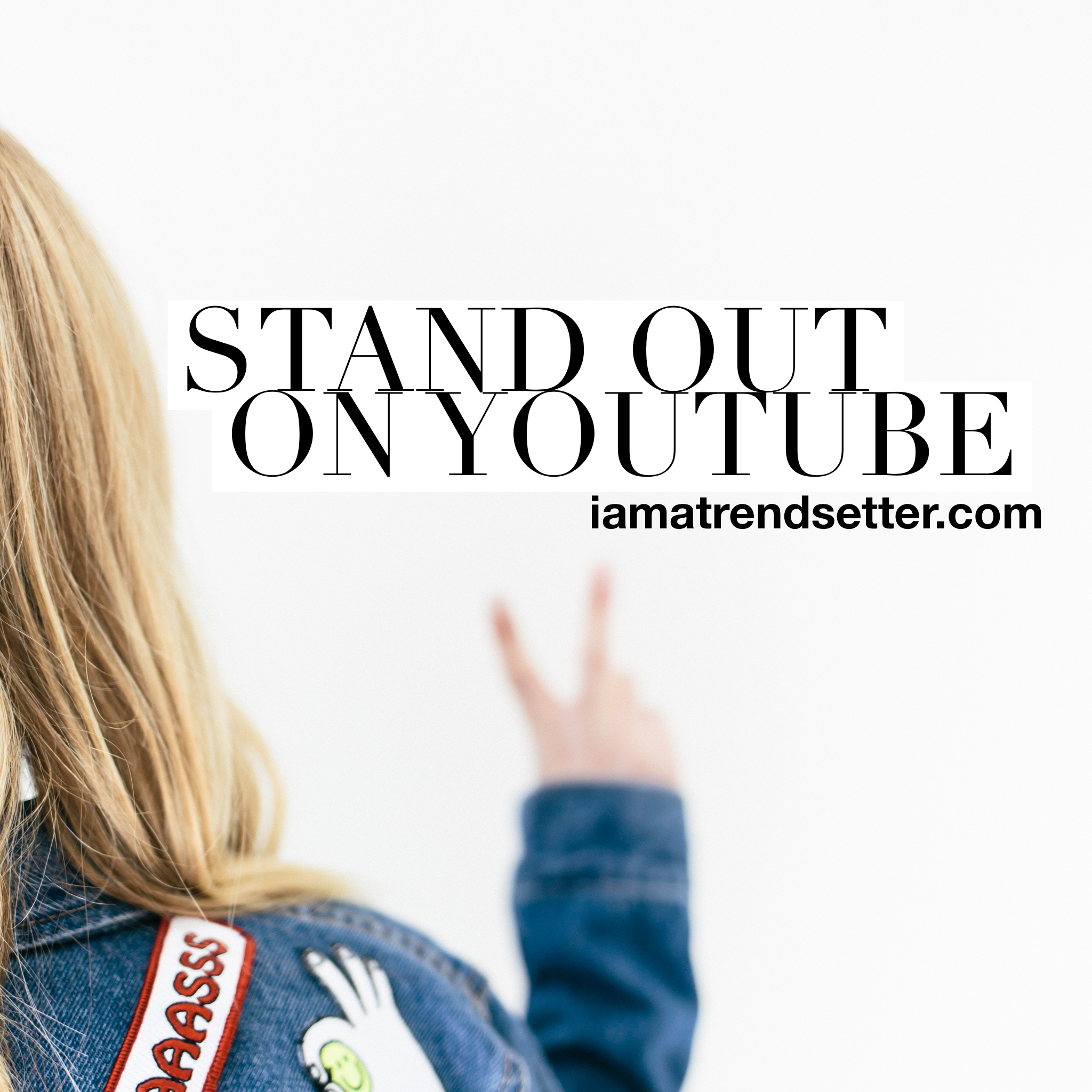 As much as I started my path as the beauty guru of the Trendsetter OG's, I've found that y'all LOVE my YouTube content. Give the people what they want if you ask me! We've already covered so many topics that I wanted to do something that could not only help someone looking to grow their YouTube channel substantially but also something that could help any socially creative person looking to make it. Today, we're going to be talking about STANDING OUT online and how you can work smarter not harder! These questions to ask yourself will get you started, and then make sure you don't miss the Facebook LIVE in the members only area this evening where I'll be covering how to cross promote your content so you get the most out of the content you create while reaching the tribe you're meant for!
WHAT DO YOU LOVE?
Make a list of things that really light your fire creatively. Write down as many as you can so that you have plenty of topics to pull from because you don't have to choose just one. I personally love beauty and lifestyle, but I also love aspects of fashion as well. The more the better and never limit the list to ending!
WHAT OPPORTUNITIES ARE THERE?
Different topics are great to have, but now is the time to turn those ideas into actual content pieces so you have to ask yourself if there is enough content material. I could say that I love everything about underwater basket weaving, but I can only come up with one or two content pieces that will work for that so that's probably not the route to take when picking topics for my channel or blog.
IS THERE ENOUGH CONTENT OPPORTUNITIES?
You've found your topics you want to cover, you've evaluated the opportunities available, and now you need to ask yourself if there are enough. This is where I always suggest having a few topics to cover instead of one. Far too many times I've seen content creators put themselves in a box of only one topic and then a few years down the line have to have a big moment of rebranding because they aren't happy with that one topic. They always explain it as, "There is so much more to me than xyz" I say this because it happened to me as well and had I known this tip from the get-go… I would have been thanking my lucky stars.
DOES IT HAVE A PURPOSE?
One of my 3 main goals for my content (as discussed in a previous post) is that I'm serving my tribe. You have to ask yourself if the ideas you've come up with so far in this process truly have a purpose, who they would help, and why they need to be created. I've found by breaking it down this way, it not only leaves you with meaningful content, but it also gives you a more complete thought that will not only entertain your audience but inform them as well.
IS IT MORE YOUTUBE FRIENDLY OR BLOG FRIENDLY?
Now that I have both a blog and a youtube channel, I find that some content is better suited for my blog and others are better suited for my channel. Once you have your ideas, your purpose, and your game plan you can decide what pieces of content will work for the platform your are uploading the content to. For example, for DIY posts, unless I am able to photograph really detailed steps, I usually go with a video because my viewers can see it in action and get a better view of how to properly execute what I'm doing. For a journal like content piece, I tend to opt for my blog because I can take time to properly craft what I'm thinking & not have to worry about editing it into a choppy thought process. Now you're probably wondering… Alexa… what do I do if I only have one or the other & the content I've come up with doesn't fit? This is where you can utilize a previous tip I offered in past posts about having a content idea list. Put that content idea on a shelf for later down the line. Maybe you'll find a random source of inspiration that will really lead you to a place where you can find a way to make that content work for the platform you have chosen OR maybe you sign up for that platform down the line… then you already have ideas to pull from! All in all, don't trash the idea if it doesn't fit your current platform, save it for a rainy day.
 
So now that I've basically given away my trade secrets (you're welcome!), why not use them to really benefit you in the long run?
Check out my Facebook LIVE in the MEMBERS ONLY AREA this evening to learn how to take the content you choose & promote it in not only an easy way, but an effective way as well! I can't wait to hang out with you!